Google My Business for contractors is an online business directory listing platform built and managed by Google that home improvement businesses small and large are strongly encouraged to use to manage their company's information across Google Search and Google Maps. Google places a huge importance on accurately updating and maintaining your GMB business' information, specifically your business' Name, Address and Phone Number (NAP), and is another avenue potential customers can use online to discover your contracting business.
In return, this gives Google the correct information to display to users searching for contractors or for your business name. Additionally, claiming and optimizing your Google My Business for contractors listing can also increase your odds to appear in the much sought after Google Local 3-Pack, as seen in the search results screenshot below:
It's super important that you understand that if you just set up a Google My Business for contractors listing, it won't guarantee that you'll appear in the SERPs (Search Engine Results Pages) or coveted Google Local 3-Pack, but it will help Google know the correct information to show regarding your contracting business if it is searched for. If your GMB listing is up-to-date with the correct information, Google is more likely to show it for relevant local internet searches. And for those looking for an edge in their local SEO rankings, this could mean the difference between 3rd of 4th place in the Three-pack. 
Here's the Reasons Why Should You Claim Your Google My Business For Contractors Listing Today

It's quite possible that you've never heard of Google My Business for contractors and you're still wondering to yourself why you would claim your Google My Business listing for contractors in the first place?
I mean, who wants more busy work when you've got a million fires to stomp out on a daily basis as the business owner.
Maybe you're asking yourself, what makes this type of internet listing for contractors so important or different from all the rest, and how it matters now all of a sudden over the other hundreds you've seen come and go?
According to Google, 97% of online consumers search for local products and services, but only 37% of all locally owned businesses in the US have claimed a local business listing.
If you've been looking and scratching your head over the past few years wondering where there's low hanging fruit and opportunity for you to beat your competition in the home improvement industry, well this is finally that juicy piece of fruit that's just waiting on you to pick it up and take a damn bite!
If your competition hasn't already jumped first and taken advantage and claimed their Google My Business for contractors listing, you have a low cost method that you can easily do yourself today! Claiming your contractor Google My Business listing can also help with your local SEO search rankings.
To claim your contractor business listing on Google, you must be the one that both owns the business and also is the one interacting with your customers during the business hours you set in your Google My Business for contractors listing.
You can work with your customers at your physical place of business or at the customer's location. That means that even service businesses, like digital marketers, freelancer writers, landscapers or plumbers, graphic artists, and so on can also claim their GMB business listing.
How Does Google Decide Which Businesses to Show in the Local 3-Pack?
In their quest for the most relevant user information and experience, Google's algorithms use a wide variety of user data and factors in order to determine which websites are going to show up in the coveted local search results.
There are literally hundreds of determining factors being calculated in Google's search algorithm. When it comes to local search, these are the main two factors being considered most relevant in displaying a home services website to the searcher:
Prominence: is measured by the business's site popularity or how well-known the contracting business is based on information Google has stored on it. The best example of this would be back links from a large number of websites and having an aged domain, meaning its been online a long time with a lot of relevant links from other home improvement authority websites linking back to it.
Distance: this measures the proximity of the business to the searcher or the area where the searcher is currently located or based on where they're going.

Finding Your Business & Claiming It
Claiming your Google My Business for contractors is pretty straight forward and simple to do. Before you even start looking, it's important that you set up a Google email account, also known simply as a Gmail Account, that you will use for your Google My Business for Contractors, AdWords, Analytics, Search Console, and any of the other new Google products being released.
The purpose of this Gmail email address is to let you have single login access to all of Google's product suite, such as: Google My Business , Google Docs, Google Drive, Google Search, YouTube, Google Translate, Google Play, Photos, Blogger, Search Console, Google Analytics, and so much more.
As the business owner, make sure that you claim your Google My Business for contractors listing because only the business owner is the only one that can claim their own business listing.
For example, if you tried to hire a internet marketing agency for contractors to act on your behalf to make the claim actually goes against Google's Terms of Service. The business owner is the only one that can ever claim their contracting business on Google My Business and then you can add your contractor marketing agency as a manager on your Google My Business for contractors account.
With your Gmail account set up and ready to go, follow these steps to properly signup and configure your listing on Google My Business for contractors:
Click on this link to access Google My Business:  www.gybo.com/business
Enter your contracting business's name and click on the  "Find Out" button.
In this example, you'll see that your contracting business is already being listed on Google Maps. Maybe you're wondering why it would be listed on Google Maps since you never added it yourself. The answer is that when you register a new LLC, it automatically gets added to some databases and directory sites, much like Google My Business for contractors is in a way, and Google pulls from this data and will automatically add your information. So don't get all bent out of shape thinking that someone has been messing with your stuff. At least not yet, which that is probably best for another article.
3. Google will query its database and let you know whether or not your home services business is listed on Google Search, and from this point you have 3 possibilities:
Update your contractor business info
Verify your contractor business info
Add your contractor business info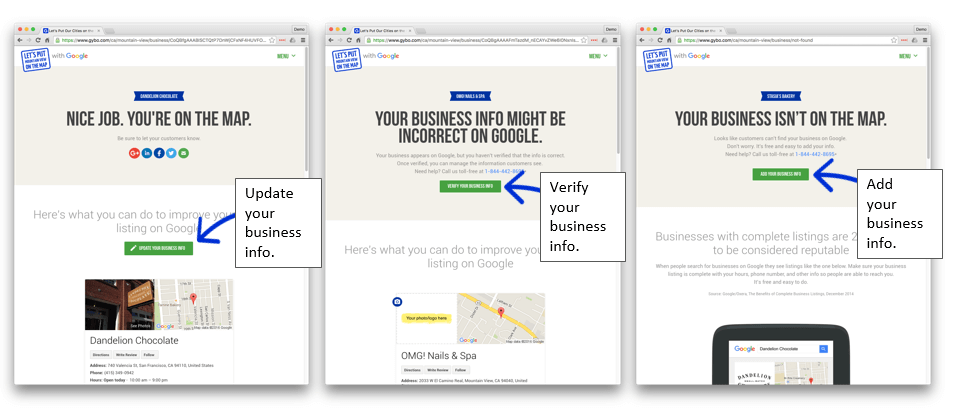 From these 3 actions that you can take on a Google My Business for contractors, you will get one of these 3 responses (as seen above in the 3 page illustrations):
"Nice Job. You're on the Map." If you get this back from your contracting business search means your business is verified. Either the owner, or an authorized manager, can login and make the edits if necessary. To access Google My Business, click the "Update Your Business Info" button.
"Your Business Info Might be Incorrect on Google." If this is what's shown, it means your Google My Business for contractors info may show up on Google, but your company's address is unconfirmed and the owner hasn't claimed their contractor Google business listing. You can verify your business by clicking the "Verify Your Business Info". This will get the ball rolling on the verification process that can take 7-10 days to complete.
"Your business isn't on the map." If you get this message back it means that Google can not locate any business information from either Google My Business or from other business directory resources out on the internet. To get started claiming your Google My Business for contractors listing, click "Add Your Business Info."
4. Enter all your contracting business' information, and do your citations EXACTLY the same way as you have on Facebook, your website and any other business directory listing. Just make sure that you pay attention to all the small details, because this is where you'll either make it or break it, like dealing with capitalization and spelling. Here are some general guidelines:
Enter the exact and complete street address. Best rule of thumb, just use the Post Office method of routing the traffic back to you're your site.
You cannot use PO Box addresses to register a Google My Business for contractors. Google does this to keep another small business out of your area by not letting them go and buy PO Boxes in order to claim their business is actually domiciled there and not just a service provider for this area. Again, this is a good thing as it helps you not have to compete with bigger players that would simply box you out of the market.
If you have a suite or office number, add that information separately from your street name and number.
5. Now select a business category that best represents your niche. The category has to already exist in Google, so you can't make up a new category to fit your contracting business. You may not find a category that exactly matches your contracting business type, so just select something that's as close as possible to it. More than likely you won't get an exact glove snug match fit, so keep your options open, or do like I do and go check out your competitors and see how they're listing and emulate.
If this still stumps you, you can contact Google Support at support.google.com/business to get help with your listing.

Make Sure You Verify Your Listing On Google My Business For Contractors
As a preventative measure against the wrong people (ie your competitors) from claiming your listing on Google My Business for contractors, Google wants to verify that you are the legitimate owner of your contracting business. This is part of the GMB "verification" process.
Most contractor business owners get their business verified by a postcard Google snail mails you. If verifying an existing contracting business that's already listed, you might be able to phone verify, though I don't know many people who actually did so just be looking out for the postcard that's coming in the mail. Wouldn't' surprise me at all if you saw it come in tomorrow.
When verifying your Google My Business for contractors by mail and phone verification, Google will mail a postcard with a PIN verification code on it. Once you receive this, you will use that code to confirm your address with your business name and identity.
If you are given the option to phone verify your business:

Make sure you can answer the business phone number to receive your verification code.
Click Verify by Phone to have the code sent to your phone via automated message.
Enter the code into your dashboard.

Google will never call your business and ask for your code, password, or any personal info. They've got more important things going on than call you. It's a scam so just hang up.
Use Valuable Insights to Discover Who Your Audience is and How to Interact with Them

Once you claim your listing on Google My Business for contractors, you can access tons of valuable insights about the website visitors who view your Google My Business for contractors listing coming from either Google Search or Google Maps. From the insights you can gleam:
How many people searched for driving directions
How many people viewed photos of your business
How many people visit your website
How many people called you

To check out the customer actions that were taken on your website, you can start with the following types of actions that customers took on your listing:
Click to visit your website
Request directions to your contracting business's physical location
Click to Call you
View photos of your contracting business and the service offering you have
Photos
This section shows the number of photos associated with your GMB for contractors business listing and how often they're viewed compared to photos of contracting businesses similar to yours. The "Photo views" graph shows the number of times your photos have been viewed by Google users, and the "Photo quantity" graph shows the number of photos uploaded by you.
The lines on the graphs compare your photo data with photo data for contractors similar to you. For example, if you own a local roofing company, your business would be compared to other roofers in your area.
You may not see this information if there aren't enough businesses like yours nearby.
On the right side of the graph you'll see the total number of photos based on the data points you've selected.
These sections have the following labels in bulk insights reports:
Total owner photos
Owner photo views
Total customer photos
Customer photo view
In order to actually see how many people took a specific action on a particular day, place your cursor over the related segment of the graph on the day you're interested in viewing data on. Click the check boxes to the right of the graph to turn off segments, so you can isolate particular data points that you're interested in.
These sections have the following labels in bulk insights reports:
Directions actions
Phone call actions
Total actions
Website actions
Direction requests
This section shows where on the map people request directions to your business. You'll see your location pinned on the map, and a map that shows the most popular places from which people ask Google Maps for directions to your address. You may also see the total number of requests broken down by city or neighborhood.
On the map, you can zoom in and out on the map using the + and – icons on the bottom-right corner.
Phone calls
This section shows when and how often customers called your business via your listing on Google. At the top of the section, "Total calls" gives the total number of phone calls in the timeframe you've selected.
In the graph, you can choose to view trends in customer phone calls by either "Day of week" or "Time of day". The graph will show when customers are most likely to call your business after viewing your contracting business listing on Google.
You can adjust the timeframe for the data in any of the sections. In the top right corner of the each section, you'll see "Last 30 days" if you haven't selected a different option. To change the timeframe, click or tap "Last 30 days", then select from the other two options: "Last 7 days" and "Last 90 days".
Conclusion
Once you verified or claimed your listing Google My Business for contractors you now own it and can control how it appears to searchers on Google Search and Google Maps.
Once your contractor listing is complete focus on staying connected with your audience, and make sure to respond to reviews left by Google users for your contracting business. If you happen to receive a bad review, the ability now to respond to that person and make things right may change their mind and show the public you are a concerned business owner.
Summary
Article Name
Google My Business For Contractors: Add or Claim Your Business
Description
Google My Business for contractors is a business directly listing website that was created for contracting businesses to use to manage their company's information
Author
Publisher Name
Publisher Logo